The Filipino-Italian director-actor Angelo Reyes
Gabby Libarios – The Philippine Star 

January 22, 2019 | 12:00am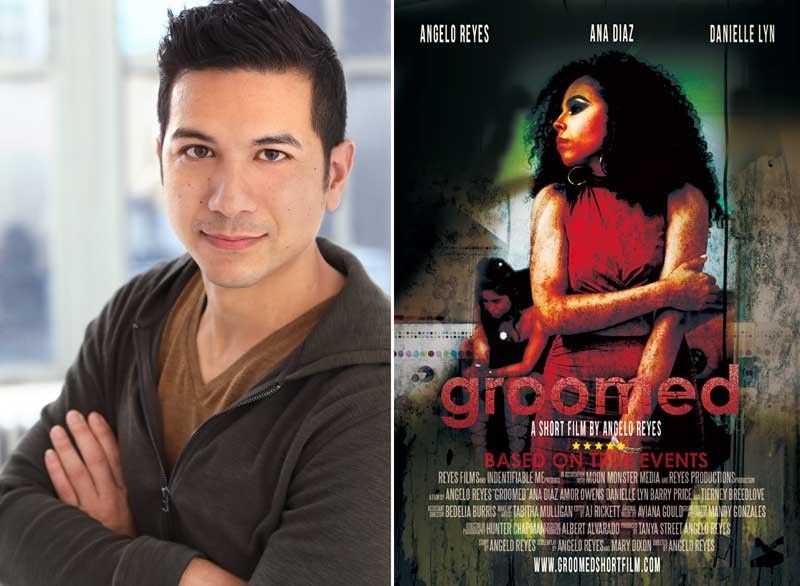 The Filipino-Italian director-actor Angelo Reyes hopes to create thought-provoking films with human impact stories in the hope of inspiring change and making people start talking about things that really matter.
MANILA, Philippines — "I want people to know that I have a mission and a vision. I don't want to be just an actor. There's a purpose behind it." Those are the words of Angelo Reyes, the Filipino-Italian actor-writer-director who wishes to make a name for himself in the international film festival circuit. The Passion of Angelo Reyes.
Angelo is credited for directing and producing Groomed, a film about human trafficking that was honored at the Westfield International Film Festival in September 2018.https://imasdk.googleapis.com/js/core/bridge3.480.1_en.html#goog_1809803586
Based on the life of sex trafficking victim-turned-advocate Tanya Gould, Groomed is about a young girl named Maria who gets entangled in the dark world of human trafficking.
Angelo has always been drawn to subjects that touch on the human condition. He wants to take on such topics as rape, murder, torture, discrimination, racial profiling — the harsh and dark realities that are too common but are rarely talked about.
In 2015, for instance, Angelo released Heartless, an action-suspense film that featured a character dealing with post-traumatic stress disorder.
Angelo hopes to work with material that stir emotions and inspire awareness. In fact, he is currently working on a project in Norfolk, Virginia, that tackles social injustice. Angelo is passionate about it as it will be a story about a young African-American who gets shot 13 times by a Filipino police officer suffering from PTSD. Aside from producing it, Angelo will be writing the movie's script and playing the part of the Filipino police officer.
"I've always wanted to create films that would carry a message," he says. "Acting will always be my first love. But producing movies with human-impact stories based on real events is on a whole new level for me."
Before moving to Virginia Beach, USA, which he now calls home, Angelo lived in Naples, Italy, where he grew up in the care of an Italian mother and a Filipino father from Angono, Rizal, the art capital of the Philippines.
Living in a biracial household has taught him to speak three different languages. The good-looking fellow is adept in Italian, Spanish and English.
"I know a little of Filipino," he says with a laugh. "I can't speak it, but I can catch a few words here and there whenever I hear people around me speak in Filipino. I'm still learning it. But it wouldn't be too hard because when I was growing up, I would hear my father speak the language."
While his being multilingual allowed him to take on characters of different races, it also brought him deep personal issues on cultural identity.
"I really didn't know who I was in terms of cultural identity," he said in his September 2014 interview with The Virginian-Pilot. "I always played a part, trying to assimilate through various roles as a young person — Italian, Filipino, American, even Hispanic. It took me a long time to realize that acting wasn't a survival skill but a marketable skill."
To further hone his acting skills, Angelo would take long trips on weekends to New York City to attend classes at the Stella Adler Studio of Acting, whose notable alumni includes such Hollywood actors as Mark Ruffalo, Robert De Niro, Benecio del Toro, Bill Paxton, Sydney Pollack, Candice Bergen, Salma Hayek, among many others.
"Maybe that's the reason why I turned to acting because of identity crisis that I experienced. When I'm acting, I get to be whoever I wanted to be."
In 2002, Angelo ventured into producing and hosting a motor sports TV show. He then became the producer and host of Street Vision Garage. His experience in front of and behind the camera eventually evolved into a serious love for acting and directing. Angelo then landed roles in Virginia Beach and Los Angeles.
Angelo has appeared in the 2008 short film The Deep End, the 2010 comedy-crime-drama The Bill Collector, the 2013 TV drama Precinct 757, the 2013 drama-thriller TV movie Killing Kennedy. His acting credentials also includes roles in The Haves and the Have Nots, Kevin (Probably) Saves the World and The House of Cards, to name a few.
While his sights are set on breaking into the international film festival circuit, Angelo would like to try out the local filmmaking industry as well.
"I want to get started because I do have a story that I would want to produce here. Hopefully, I can do that next year. I want to do films one after another.
The passion of Angelo Reyes | Philstar.com